---
---
Computing
Antenna Radiation Patterns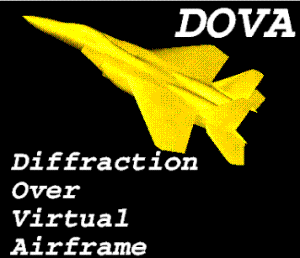 WHAT does DOVA do?
DOVA (Diffraction Over Virtual Airframes) system utilizes high-frequency and differential geometric techniques to compute radiation patterns of platform-mounted antennas

Realistic CAD-generated models are used in computations
BENEFITS
high efficiency computer simulation reduces cost of experimentation in search of the most effective operational environment
faithful CAD representation of the platform geometry results in higher accuracy of computed results
different types of antennas can be analyzed
user-interactive antenna repositioning and dynamic modeling are supported, thereby allowing to play ``what-if'' scenarios with visual feedback
METHOD
Based on user's choice of the

aircraft,
antenna,
antenna placement,
antenna characterictics,
pattern cuts,

DOVA

builds propagation paths from radiating source to given observation points in the far-field
classifies diffraction mechanisms and computes all geometric characteristics required for electromagnetic (EM) analysis
computes and integrates field contributions by different diffraction mechanisms
displays computed results graphically
FEATURES
highly efficient overall performance permitting real-time computations on platforms with a large number of facets
intuitive interactive environment with user-friendly interface
powerful 2D and 3D visualization tools that allow

to view and manipulate 3-D models and computed propagation paths in real time
to plot, view, and print antenna radiation patterns in Cartesian and Polar coordinates.

extensive on-line help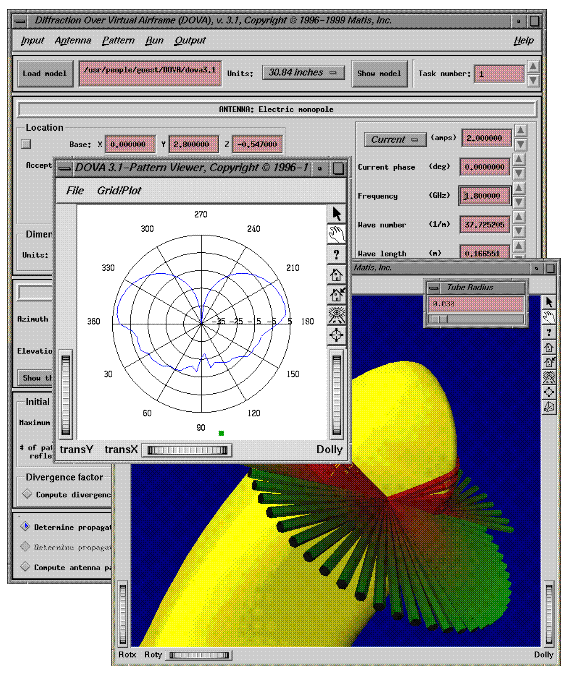 MORE about THEORY behind DOVA
The computational engine driving DOVA consists of two main subsystem:

EM Analyzer based on Uniform Theory of Diffraction (UTD) and
Propagation Path Finder.

The UTD is a well known asymptotic theory that predicts electromagnetic fields scattered and/or diffracted by obstacles that are large in terms of the wavelength. It is an extension of the classical Geometrical Optics and the Geometrical Theory of Diffraction. One of the fundamental principles of the UTD is that it utilizes individual optical paths from the radiating source to an observation point in the far-field. Therefore, application of the UTD requires, as the first step, construction of the actual propagation paths. Once such propagation paths are built, our UTD subsystem identifies appropriate diffraction mechanisms and computes the reflected and/or diffracted fields associated with these paths.

The Propagation Path Finder subsystem is a collection of highly sophisticated and tightly linked geometric algorithms responsible for reading-in the platform geometry, antenna data, and pattern cut specifications, and producing the required propagation paths. The surface of the scatterer acts as an obstacle to propagation and when building the propagation paths the algorithms take into account the geometry of the platform and its reflective and diffracting properties. In addition to determining the required propagation paths, our algorithms classify spatial and surface path segments, edge diffraction and reflection points, and compute all geometric quantities required for performing diffraction analysis. This includes calculating tangents, normals, geodesics, various curvatures, torsion, Fock parameter, and divergence factor.

The task of building propagation paths for a complex structure such as an aircraft, is a difficult task in itself and in the past its solution often relied on simplified representation of the platform as a collection of a small number of simple shapes such as cylinders, ellipsoids, cones, and flat plates. However, comparisons of results based on simplified platform representation with measured data showed that large errors may result from inaccurate representation of the platform geometry.

On the other hand, wide availability of high fidelity CAD-generated models of numerous military and civilian platforms makes it possible to improve significantly the accuracy of solutions to the radiation and coupling problems, provided there exist computational algorithms capable of performing required calculations on such models.

It is precisely these tasks that DOVA system is designed for.


Specifically, DOVA permits UTD antenna pattern computations for aircraft-mounted antennas to be based on geometrical data extracted directly from a fully realistic aircraft CAD model represented in a standard format in terms of triangular facets. Capabilities to run DOVA on models represented by NURBS and in other formats will be available in future releases.


In the current release, DOVA identifies and analyzes contributions due to UTD fields of the following type:

Direct fields propagating in space
Surface diffracted fields (``creeping'' waves)
Wedge diffracted fields
Double-edge diffracted fields
Reflected fields
Fields which are combinations of the above
The computed results are stored as files and can be viewed/printed as polar and/or Cartesian plots.
---
---
---
Read more about Antennas and Platform Modeling

---
---
---